Meet the Karabelas family
Let us introduce our family, the people behind all this. We, the Karabelas family, are fourth-generation olive growers, cultivating more than 4,500 family-owned olive trees. The average age of these trees is over a century, in olive groves all over the slopes and the Valley, surrounding Ancient Olympia. And we are not alone, in this!
It is crucial to find growers sharing our passion for quality, and our genuine concern for the environment
Our efforts and passion for quality, brought together a selected team of local farmers who contribute to our vision with their experience and thousands of olive trees. And we are very proud to help our local economy and give reasons to the younger ones to stay here and prosper.
This team has two pillars:
– A non-negotiable focus on premium fine food and extra virgin olive oil production, guided by quality, not quantity, and
– A profound respect for the environment, adopting only sustainable-friendly cultivation methods.
The "Olive Temple" by the Karabelas family: A brand new "temple" devoted to the sacred olive tree, in an ancient place where more than 70 temples already exist!
Olympia, our hometown, is a place that everybody knows, wherever they may live. A top priority destination for many, it is blessed with thousands of visitors, every year.
We planned this lifetime project with two ideas in mind:
We wanted it to be an innovative, state-of-the-art premium extra virgin olive oil production mill with top-quality products exported all over the world, and
An undisputed "must-see and visit" place for all olive oil lovers and healthy-living goers, of all nationalities.
Forgive our lack of modesty but our vision is simple: we want our "Olive Temple" and our products to be the happiest, the most vivid memory someone has after his visit to Olympia. Or even from his trip to Greece!
And we know exactly how to accomplish this mission: it is not our first time! Actually, we have been doing this for more than tens of thousands of times, every year!
The Karabelas family is also the creator and owner of "Agriturismo Magna Grecia", the leading point of reference for all incoming tourism to Olympia, from 2008 till today, and the top selection of Cruise companies and travel agents and planners.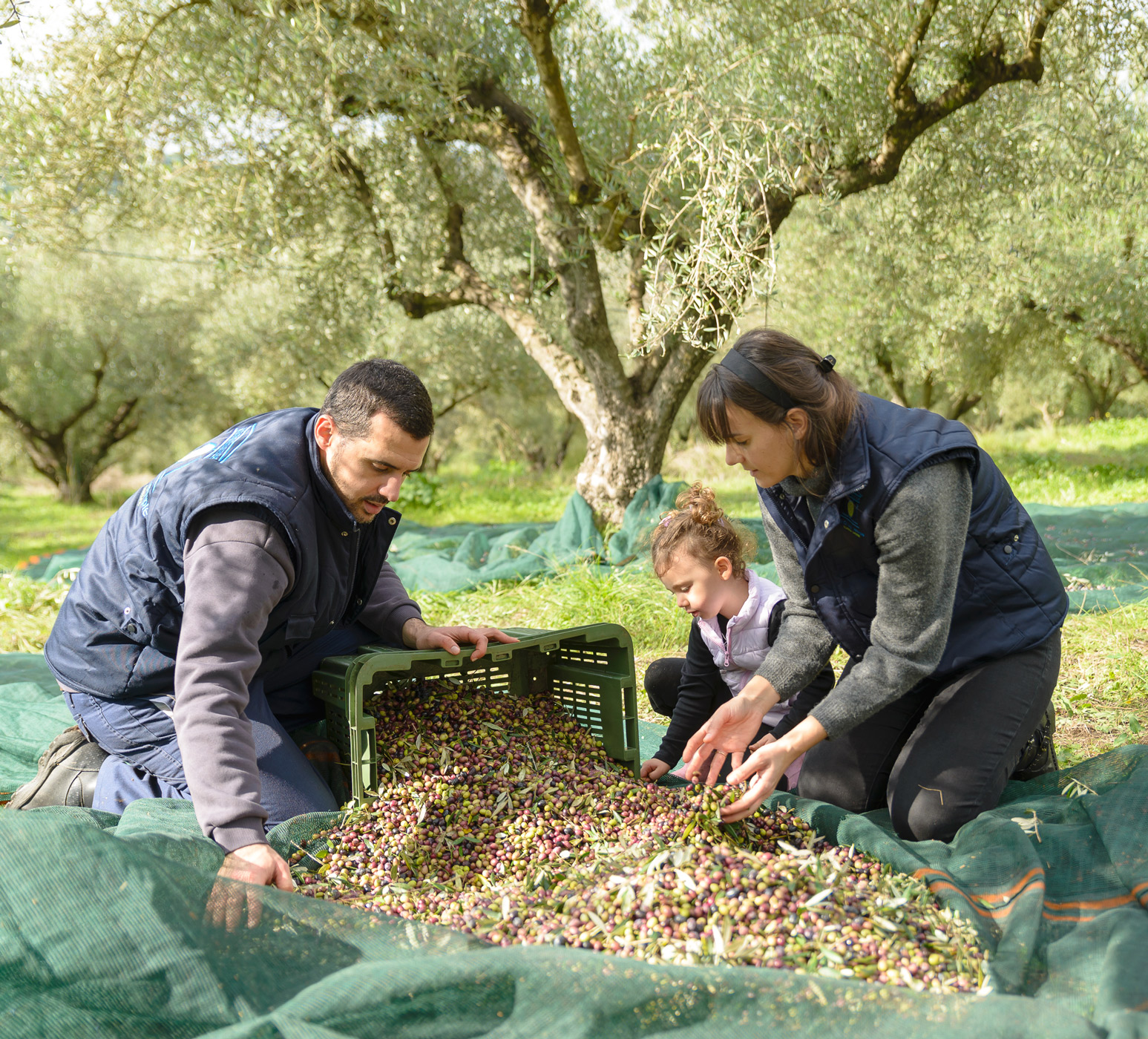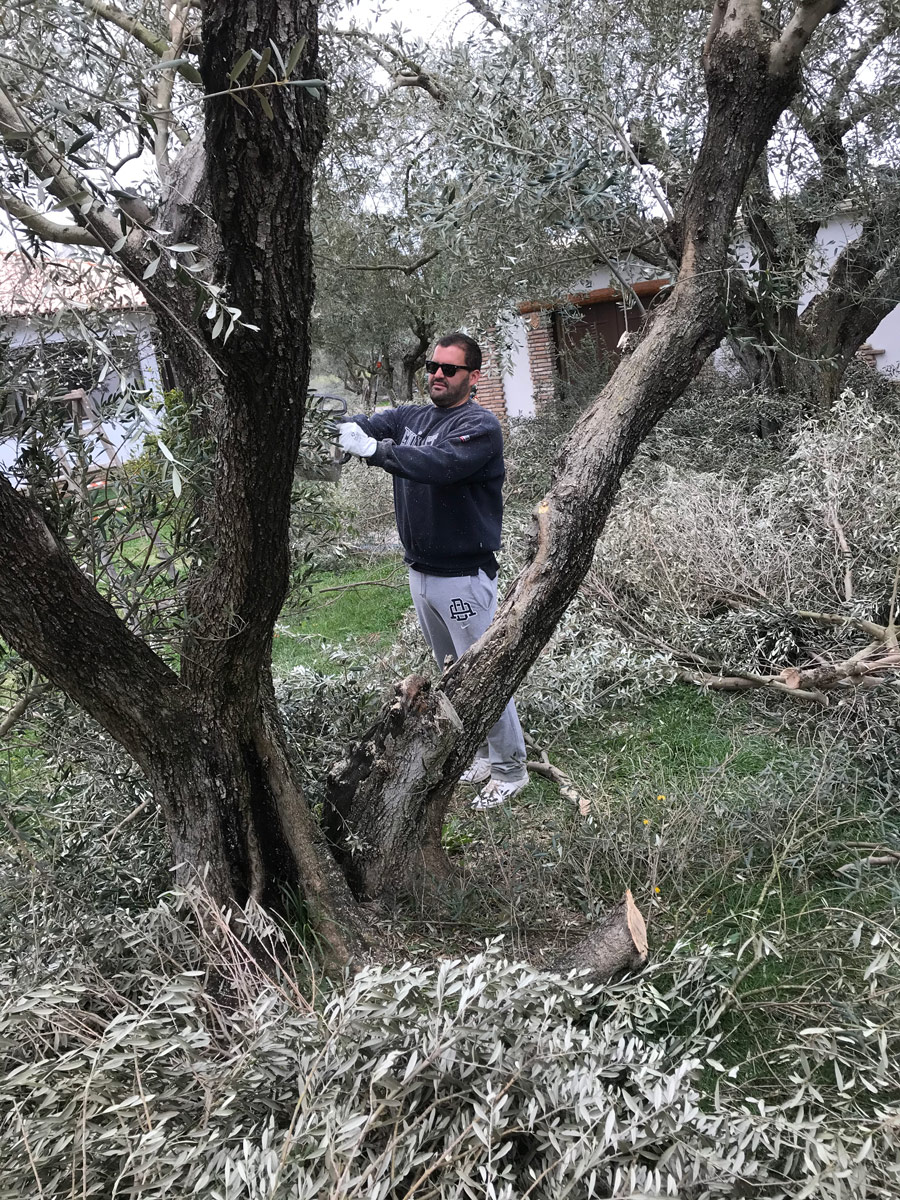 Franca Magrini Karabela
Meet the Italian of the family. She is the wife of Dimitris Karabelas, a proud mother of two sons and the caring grandmother of Paulina.
Originally from Friuli, a partially rural area of ​​Italy, she was involved in her family's farming activities, wine production and fruit cultivation since her childhood.
She and Dimitris Karabelas met 4 decades ago, and decided to make Olympia their home, and manage the Karabelas family heritage and property.
They are the co-founders of "Agriturismo Magna Grecia" (2008), home of production and distribution of the family products ("farm to table"), but also the vehicle for promoting the culture and tradition of Olympia.
The time to promote Olivoturismo (olive tourism) as a "tool" of authentic food experiences, and to initiate every visitor to the fascinating culture and traditions of Ancient Olympia, is now!
Alexis Karabelas
Alexis is the firstborn of Franca and Dimitris, married to Athena Pternea, and the father of Paulina.
From a young age, he and his brother Francesco helped their grandfather Alekos and their father Dimitris with the family's crops every day, between school, play and sports.
He is a civil engineering graduate, who studied in Greece and Italy. He came back in 2013, during very difficult times for the Karabelas family: the loss of their father Dimitris.
He decided to stay in the family business and explore the olive groves, upgrading his knowledge through courses and seminars.
Together with Francesco, they planned "The Olive Temple", an innovative, sophisticated, and technologically advanced olive mill, applying innovative practices in the production of premium extra virgin oil.
Technological advances provide an opportunity: to get the best out of the olive fruit, in all of its characteristics: balanced taste, delicious aromas, nutritional values, healthy diet, well-being. We want it all and, yes, we can have it! Or we can go back to the old olive mills with millstones and take …nice photos!
Francesco Karabelas
The younger son of Franca and Dimitris spent his childhood just like Alexis, his brother: school, helping in the fields, culture and sports.
His love for nature and Olympia, our homeland, inspired his studies at the Agricultural University of Athens, an undeniably valuable topic considering the family's activities.
After his graduation in 2016, he joined forces with the rest of the family, aiming to fully utilize the groves and its products.
He never stops updating his knowledge through seminars, always looking for ways to achieve the desired result.
The journey towards any premium, fine food starts in the field. It is there that you must apply the best and most sustainable practices. We must respect every tree and treat it properly, if we expect great results from it, and we should do this with the future generations in mind. We must leave this eternal land in a better condition than what we inherited!
Athena Pternea
Alexis' wife and Pavlina's mother. Originally from Neochori, Western Mani in southern Peloponnese. Her upbringing was not much different from that of the two brothers mentioned earlier. It's indicative that she grew up between two olive mills. In fact, together with her sister they started making cosmetics from olive oil and promoting them in their family's bakery in Mani. She also studied and completed her studies at the IT department in Patras. She then decided to follow Alexis and help him in the new family venture, undertaking olive oil soaps and evolving them into modern quality cosmetics.
Olive oil as we are told is not only a food ingredient but also an excellent product for our skin. We know this from antiquity. We create soaps with an olive oil content greater than 70%
Pavlina Karabela
The mascot of the family. She's currently a very active child and is busy feeding the family's animals and collecting the eggs as you can see. She has all the stimuli to continue the family tradition, time will tell…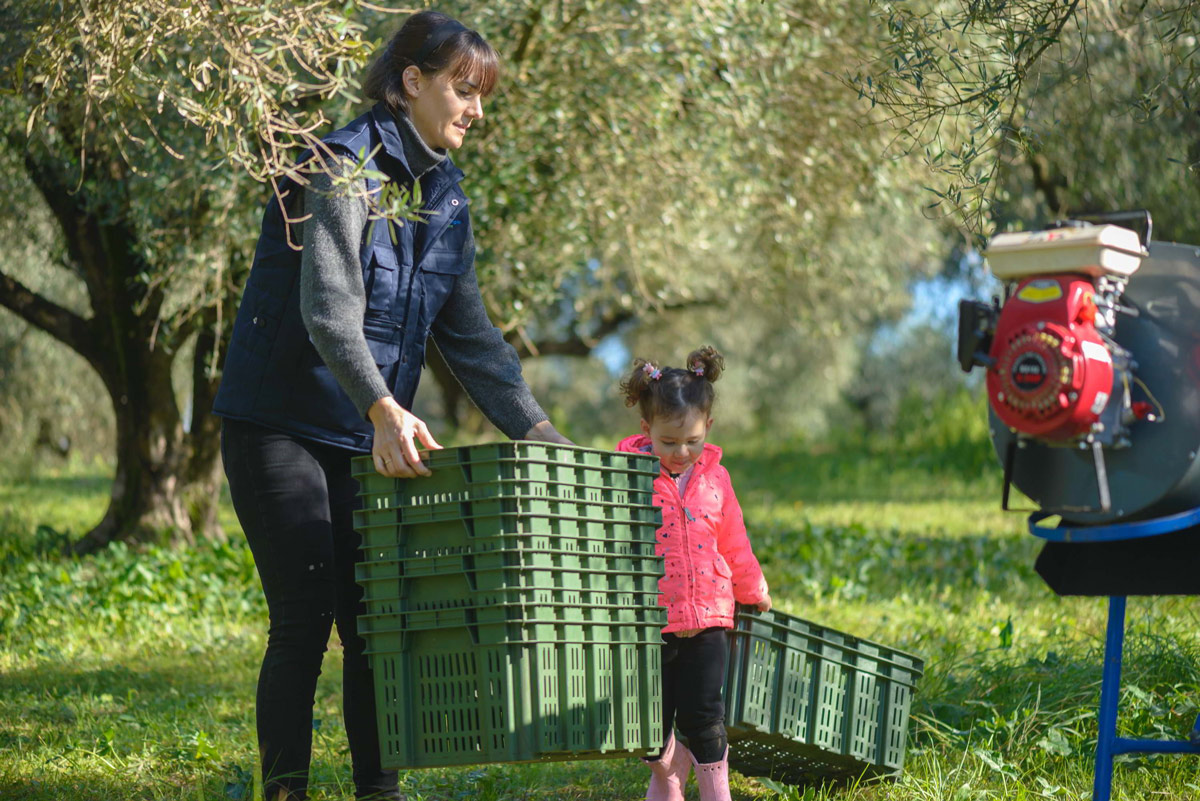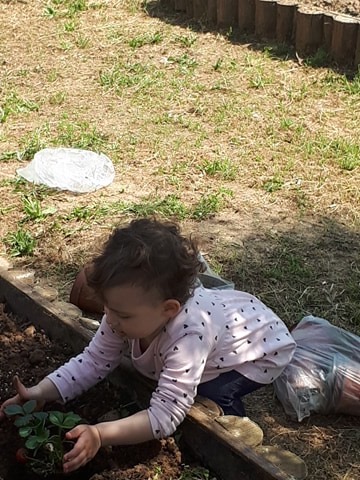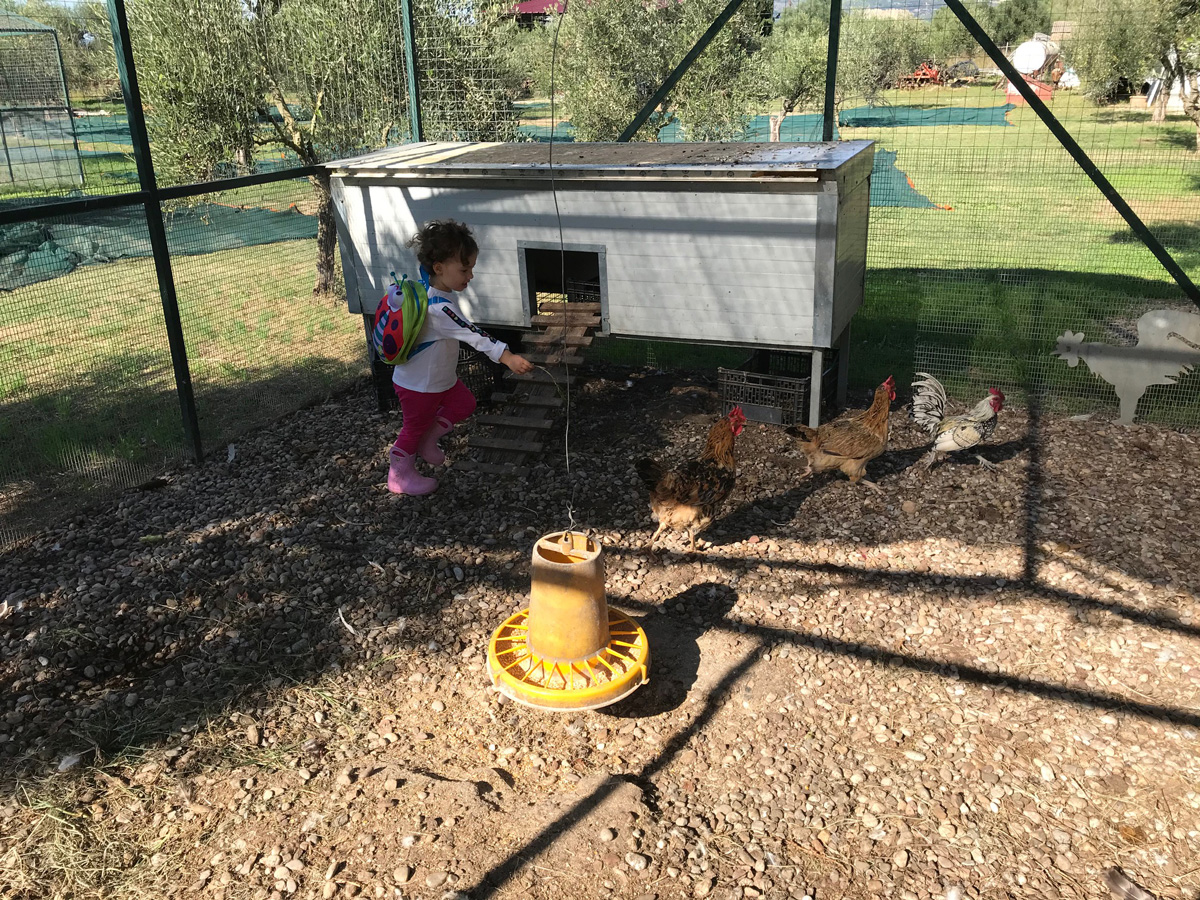 The Vision
Certified extra virgin olive oil for everyone! For every use! For every day of the week! But also as a valued gift for the important moments of our lives!
The family, with the experience gained from the hundreds of thousands of visitors all these years from all over the world understands the different needs and taste habits of the people outside the Mediterranean. Therefore it has adjusted its production from the one and only EVOO to 5 + 1 EVOO labels accordingly to meet their habits and its vision.
As they say it is a constant search with many variables and only one constant…. The quality of the proposed EVOO!